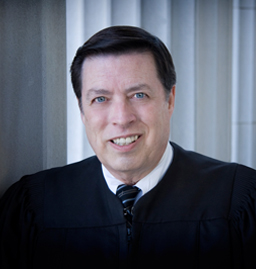 SJI is sad to announce the passing of our Board Chairman, and former Chief Justice of Arkansas, Jim Hannah.
Jim Hannah served as the Chief Justice of the Arkansas Supreme Court from 2005 to 2015, and successfully ran statewide contested elections for Chief Justice (2004) and Associate Justice (2000). At the time of his retirement, he was the longest serving judge in the state of Arkansas. He was appointed by Chief Justice Roberts to the U.S. Supreme Court Judicial Conference Committee on Federal-State Jurisdiction, and by President Obama to SJI, where he served as Chairman from 2010 until his death. He also served as President of the Conference of Chief Justices; Chairman of the National Center for State Courts Board of Directors; and former President and Board Member, Arkansas Judicial Council.
Chief Justice Hannah served as a Juvenile Judge for White County, Arkansas from 1976-1978, and was elected as a Chancery/Probate Judge in the 17th Judicial District, 1979-2000. His previous work in the legal profession included serving as the Searcy City Attorney; Deputy Prosecuting Attorney for Woodruff County; City Judge for Kensett and Rosebud; City Attorney for Augusta, Bradford, Des Arc, Garner, Kensett and Rosebud; and Private Attorney, Lightle, Tedder, Hannah & Beebe Law Firm, Searcy, Arkansas.
His many accolades and accomplishments include the establishment of the White County Juvenile Court and Juvenile Probation Office; former Chair, Arkansas Judicial Council's Judicial Resources Assessment, Legislative, and Retirement committees; Member, Arkansas Supreme Court Committees for Access to Justice, Client Security Fund, Technology, Child Support and District Court Resources Board; Chair, Drug Court Advisory Committee; Faculty Advisor, National Judicial College; Member, Arkansas Board of Pardons and Paroles, 1972-79; former legislative assistant to then-Governor Dale Bumpers; former Chairman and past member of the Arkansas Court Reporters Examiners Board; and Member, Arkansas Bar Association.
Chief Justice Hannah graduated from the University of Arkansas School of Law in 1968, and held a BSBA (Accounting) from the University of Arkansas at Fayetteville.