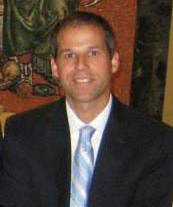 JONATHAN D. MATTIELLO
Jonathan D. Mattiello was appointed as the Executive Director of the State Justice Institute (SJI) in 2010, after serving three years as Deputy Director.  Prior to joining SJI, he served at the U.S. Department of Justice (DOJ) as a Budget Analyst working on resource management issues.  Earlier in his career, he served as a Program Analyst at the U.S. Drug Enforcement Administration (DEA), and was detailed to the U.S. House Committee on Appropriations/Commerce, Justice, Science, and Related Agencies Subcommittee.  He began his federal career as a Presidential Management Intern, and served six years in the U.S. Army National Guard.
Mr. Mattiello holds Certified Court Manager and Certified Court Executive credentials from the National Center for State Courts/Institute for Court Management, and a Certificate in Legislative Studies from Georgetown University.  He is the recipient of numerous awards for service to SJI, DOJ, and DEA, including a Special Act Award for coordination and management of DOJ's response to budgetary issues related to Hurricanes Katrina and Rita.  He received a B.A. and MPA from the University of North Carolina at Greensboro.